Welcome to the Summer of 2023 at your Mill Creek Towne Pool!
Summer's winding down but the weather is beautiful. Come and enjoy the warm days and cooler nights at the pool before summer's end!  Don't miss the Ice Cream Social: Sunday at 3:00!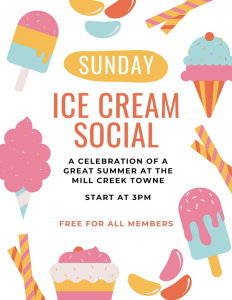 Don't forget our summer tradition: the last thing we do before closing the pool for the year is our annual doggy swim. Get those pups ready for a fun dip in the pool!
ALSO: Enjoyed the summer and have good ideas for improvements, social events, or guiding how we spend our budget? The Board needs you!  Reach out to [email protected] to talk about how you can contribute. Raise your hand and we'll get you involved, all it takes to join is for you to volunteer! New to the pool or long-time member, we'd love to have you.
~LATEST NEWS~
Snack Bar Volunteer Sign up

click for information on volunteering and earning SSL hours at our Snack Bar
New for 2023!

The Mill Creek Towne pool will be open MONDAYS once again this coming season, and will have more open days while school is in session. The full schedule will be posted soon.
Additional NEW furniture, a NEW awning for the wading pool, and a NEW finish for the entry floors have been procured over the winter.  We will also continue with Food Truck Fridays, the Snack Bar, and many more activities throughout the Summer.
Summer Memberships rates will remain FLAT for 2023, with no fee increases, so…
Join or renew your Membership Today
For details on membership levels and 2023 fees go to the Membership tab
Click here to go straight to the Membership Database to join the pool; follow these easy steps:
1. Log on to the Membership Database
2. Select your membership level.
3. Select pay online (3% credit card fee will be added),  PayPal to [email protected], or mail your check to MCTSA PO Box 5603 Derwood, MD  20855
4. Tell a friend about what a great place MCT is!
5. If you know anyone whose pool is not opening this summer or is not supporting a swim team for 2023, please invite them to join MCTSA and try out for our Marlin team! Swimmers are still able to transfer.
For questions, please contact us by email:  

[email protected]